CONFIRMED, WE ARE A WINNER!
Lamontagne Chocolate is very proud to announce that it has won the CANADIAN GRAND PRIX NEW PRODUCTS AWARD from the Retail Council of Canada in the confectionery product category for its delicious dark chocolate coconut almonds, and its exquisite Caffe Latte almonds, that are part of the Lamontagne Collection!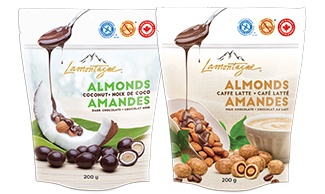 These two innovative products were unanimously favoured by judges who preferred them among other major national brands.
It is with tremendous pride and joy that Tina Lamontagne, Vice President of Business Development, received the prestigious award on behalf of the entire Lamontagne Chocolate family.
"We share our pride with all our employees and all those who trusted us and contributed to this success!"